Okay, I guess the overall winner for the baby's name is Taryn. I'm happy with that. Although I would have been happy with Reese, too, since I picked them both! However, if you choose to still call her Reese, then so be it. That's fine with me, too.
Oh, and my friend Ashley was also kind enough today to point out to me that my crush, the lead singer of Chevelle, looks strikingly like Jimmy Fallon. Huh, interesting, I thought, and then realized that she was right. Who knew, but I think Jimmy Fallon is hot! Oh, and it seems that his name is Pete Loeffler, and that the rest of the band are all related to him, too...Interesting.
Looking like Jimmy Fallon...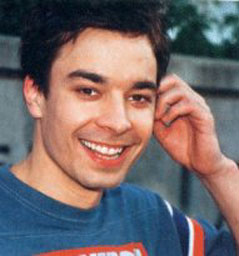 Looking like Jason Lee...
I have lots of other thoughts, but I'm in a really pissy mood right now, and I have no desire to go into it. I hope you have a good day, and I'll see you later.